Synology Expansion Unit DX1215

12-Bay Expansion Unit for Increasing Capacity of the Synology DiskStation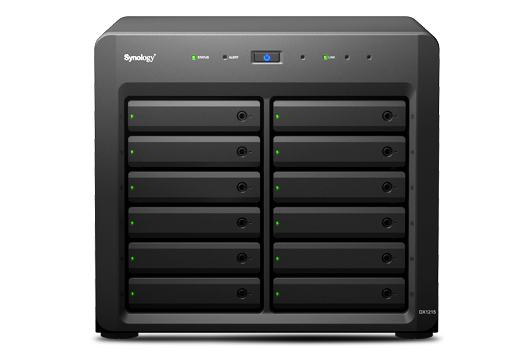 Synology Products
Synology Expansion Unit
Expansion Unit DX1215 12 bay Serial ATA/600 Controller
#DX1215
Our Price: $1,241.00
Click here to jump to more pricing!
Overview:
Synology DX1215 delivers an effortless volume expansion and data backup solution for selected Synology DiskStation servers by providing an additional 12 drive slots with SATA III 6Gb/s interface support. Synology DX1215 is backed with Synology's 5-year limited warranty.
Plug-and-Use design for seamless storage space upgrade
Online volume expansion
SATA III 6Gb/s interface support
Perfect for local backup solution
Energy-saving hibernation mode
Managed from Synology DiskStation Manager (DSM)
Volume Expansion & Backup

When drive capacity is running low on a Synology DiskStation, Synology DX1215 provides an easy way to immediately scale capacity by providing an additional 12 drive slots. A RAID volume on the Synology DiskStation can be expanded directly without having to reformat the existing drives, ensuring the Synology DiskStation continues providing services during capacity expansion.
Synology DX1215 can serve as a dedicated local backup solution for a Synology DiskStation. When created as a separate volume, the Synology DX1215 provides a great backup solution for local drives in case of system failure.
Reliable Plug-and-Use Design
DX1215 securely connects to Synology's DiskStation servers with a specially designed expansion cable, ensuring easy connection and maximum data throughput. The 6Gb/s connection speed allows the drives in the connected Synology DX1215 to operate as the internal ones of Synology DiskStation.
Green & Easy to Manage
Hibernation mode can be manually configured to start automatically when the system has been inactive for a period of time. This not only saves energy but also extends the lifespan of hard drives. DX1215 will also smartly power on/off with the attached DiskStation, so no user intervention is needed to keep this system running smartly and efficiently.
DX1215 comes with a fast detachable fan module with two 120 X 120mm fans and screwless drive trays, making system components replacement fast and tool-free.
Specifications:
Hardware Specifications:
Applied Models

DS3615xs
DS3612xs
DS3611xs
DS2015xs
DS2415+
DS2413+

Note
DSM version requirement: 5.1-5004 or later version
Storage
Drive Bay(s)
12
Compatible Drive Type

3.5" SATA III / SATA II HDD
2.5" SATA III / SATA II HDD
2.5" SATA III / SATA II SSD

Maximum Internal Raw Capacity
96 TB (8 TB HDD X 12) (Capacity may vary by RAID types)
Hot Swappable Drive
RAID Management through Synology DSM
External Ports
Infiniband port
1
Appearance
Size
270 mm X 300 mm X 340 mm
Weight
9.02 kg
Power
Power Recovery
Synchronized with the Synology DiskStation
Power Supply Unit / Adapter
500W
AC Input Power Voltage
100V to 240V AC
Power Frequency
50/60 Hz, Single Phase
Power Consumption
51.23 W (Access)
21.71 W (HDD Hibernation)
British Thermal Unit
174.80 BTU/hr (Access)
74.08 BTU/hr (HDD Hibernation)
Note
Power consumption is measured when fully loaded with Western Digital 1TB WD10EFRX hard drive(s).
Temperature
Operating Temperature
5°C to 35°C (40°F to 95°F)
Storage Temperature
-20°C to 60°C (-5°F to 140°F)
Relative Humidity
5% to 95% RH
Others
System Fan
120 mm X 120 mm X 2 pcs
Easy Replacement System Fan
Noise Level
27.2 dB(A)
Note
Noise Level Testing Environment: Fully loaded with Seagate 1TB ST31000520AS hard drive(s) in idle; Two G.R.A.S. Type 40AE microphones, each set up at 1 meter away from the Synology NAS front and rear; Background noise: 16.49-17.51 dB(A); Temperature: 24.25-25.75˚C; Humidity: 58.2-61.8%
Certification

FCC Class B
CE Class B
BSMI Class B

Warranty
5 Years
Environment & Packaging
Environment
RoHS Compliant
Packaging Content

Main Unit X 1
User's Guide X 1
Accessory Pack X 1
AC Power Cord X 1
Expansion Cable: Infiniband X 1
Pricing and product availability subject to change without notice.
Synology Products
Synology Expansion Unit
Expansion Unit DX1215 12 bay Serial ATA/600 Controller
#DX1215
Our Price: $1,241.00