Network Storage Solutions for Healthcare Industry

Solutions for Backup, Storage and File Management
Synology DiskStations are a perfect backup and file sharing solution for doctor office, medical clinic, hospitals and other medical organizations.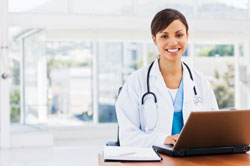 Benefits of Synology DiskStations in a Healthcare Environment
Compliance: Meets the electronic requirements of HIPAA for storing PHI data
Peace of Mind: Reliable data backup
Secure Connections: Encrypted FTP, privatized folders
Affordable: Budget-friendly storage and file server
Save time training: Easy-to-use interface
Value: Get more for your money with Synology solutions
Recommended Features for Healthcare
Encrypted Share and FTP
Windows ADS Support
Desktop Backup
Network Backup
Local Backup
Surveillance
Web Station
In August of 2009, the US government announced $1.2 billion in grants available to help medical facilities digitize patients medical records. Digitally storing medical records will not only save time and money for the medical practitioner, but be more efficient and ensure safety for the patient. By automatically red-flagging incompatible prescriptions to simply keeping records organized and accessible from anywhere, there is little doubt that storing records electronically will improve the effectiveness of healthcare.
As medical centers of all sizes make the transition to electronic medical records, the need for secure, accessible storage is in high demand. For those clinics, small doctors offices, specialists, and others who don't have the infrastructure or budget for enterprise-level server solutions, network-attached storage is the perfect fit to meet their growing needs.
Synology DiskStation provides several features beneficial to the healthcare industry. On top of sharing files and printers, multiple levels of security are required with sensitive medical data. To keep patient and business data secure Synology NAS have a built-in firewall, encrypted network backup, secure rsync, HTTPS connection. FTP over SSL is also provided to data may be safely accessed from anywhere with an internet connection.
Windows ADS and User Home feature allow for over 2,000 user accounts and 512 concurrent connections (in business-class models) and privatized folders for every user. Desktop, local, and network backup are all also supported to ensure data is never lost. Surveillance Station makes it easy to schedule recordings of the office, providing a record of everyone that passes through the front door or safeguarding secure areas. DiskStation Manager even includes a Web Station to host the company website or internal discussion boards and wikis.