Rethink Storage

Solutions for Backup, Storage and File Management
File Sharing
DSM provides fast and secure ways to share your critical digital assets. With File Station, you can share files on your Synology NAS to any one, and customize access permissions for optimal security. File Station makes it easy to share files across multiple platforms — whether it's Windows, Mac, and Linux computers or mobile devices.
File Station
Your versatile file manager
Share files easily and safely
With one link, you can share files or request file uploads from others. This customizable link allows you share it to specific users, set a password, and specify its validity period.
Access files from anywhere
Explore and organize files using a mobile phone or tablet (Android, iOS and Windows Phone support). Files can even upload to your DiskStation or download to your devices directly.
Centralize file access
With remote folders and public cloud storage (Dropbox, Box, Google Drive, Microsoft OneDrive) mounted to File Station, you can access all remote data as if stored locally.
Windows, Mac & Linux
DSM comes with comprehensive support of networking protocols — FTP, SMB2, SMB3 (encrypted), AFP, NFS, and WebDAV — and provides seamless file sharing across Windows, Mac, and Linux platforms. 
The Recycle Bin feature supported on AFP, SMB, File Station, and WebDAV, allows you to flexibly decide when to permanently remove the files, according to the different rules.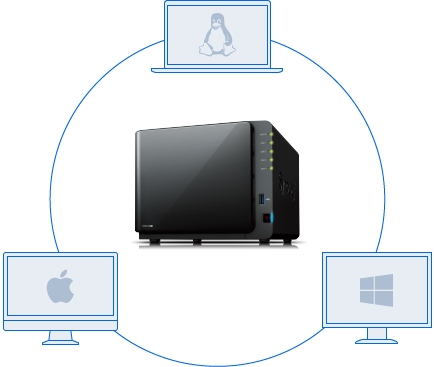 Mac Finder Integration
With the in-depth integration of Mac Finder, you can use Mac Finder to quickly search the content of indexed documents, photos, and more within mounted folders on your Synology NAS.



Presto File Server
Presto File Server transfers massive files through long distance in high-speed by making the best use of your purchased bandwidth, transforming your Synology NAS to a speedy file transfer portal.
Speedy
The SITA technology ensures maximum usage of Internet bandwidth by minimizing the impact high latency and packet loss rate have on file transfer.
Secure
Presto protects your credentials with TLS/TCP and secures file transfer with AES-128 encryption.
Simple
Presto features intuitive user experience with full support of Windows, Mac, and Linux platforms.
Universal Search
Universal Search provides fast, accurate, and global search into your Synology NAS. With one click, it searches through your multimedia files, DSM applications, help articles, and file contents in Synology Note Station and Synology Office, offering quick preview of matched items at the same time.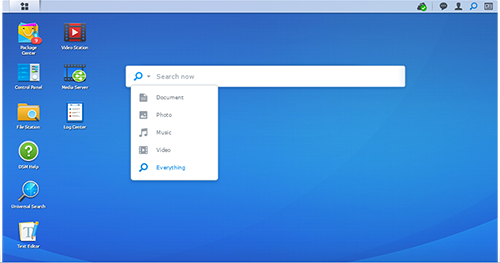 Desktop widget: Search Now
Press Ctrl + F on the DSM desktop to start this widget for quick search. With built-in hotkeys, you can target your search at different file types for refined results.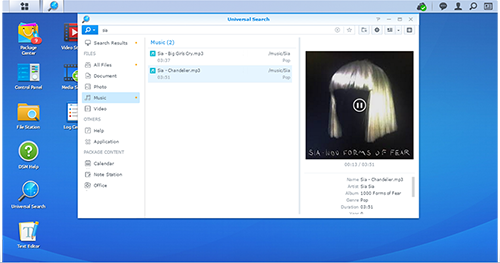 Instant preview
Show contents and metadata of matched items with just one click.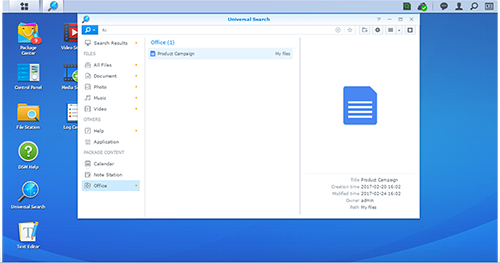 Integration with DSM packages
Directly open matched files, DSM packages, and files in Synology Office and Synology Note Station.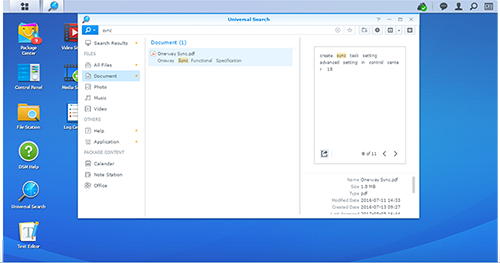 Full-text search
Find all keyword-matching parts within documents, and jump to a target section with a DSM viewer package.

FTP, WebDAV, CalDAV & CardDAV
All businesses nowadays face a high demand for fast, global, and stable file exchange with customers and work partners. DSM is your ideal file server solution that provides unified support of FTP, WebDAV, CalDAV, and CardDAV services.
Data Backup
Handy tips for protecting your files
Keep your data safe and sound with these backup and security solutions
Hard drives fail. Computers get infected by viruses. Mobile devices break or disappear. Ask yourself, if one of these accidents happened to you, would your files be safe? Be it your home videos or business documents, your data deserves a great protection solution, so your files — your memories — stay with you forever.
Regularly back up your devices
With its large and scalable storage capacity, Synology NAS is the logical choice for backing up files on all your devices, whether it's a Windows, Mac, or Linux computer, or mobile devices. You can back up specific folders on your computer in real time with Cloud Station, or take advantage of native support for Apple's Time Machine, and other third-party backup applications. If anything happens to your devices, your files will be safe on Synology NAS.

Back up your data to an off-site location
When it comes to protecting important files, businesses can never be too safe. Unexpected events like thievery or a natural disaster can wipe out your data infrastructure, leaving your business paralyzed. To prevent such situations, Synology NAS lets you easily back up data to an off-site destination, such as another Synology NAS or rsync-compatible servers.

Store archived data in the cloud
For home users or small businesses, purchasing dedicated equipment for off-site backup might be impractical. For such users, Synology NAS makes it easy to back up data directly to various cloud storage services, such as Amazon S3, Glacier, Microsoft Azure, OneDrive, Google Drive, or Dropbox. Keep commonly used files on your Synology NAS for guaranteed fast access, while archiving old files in the cloud.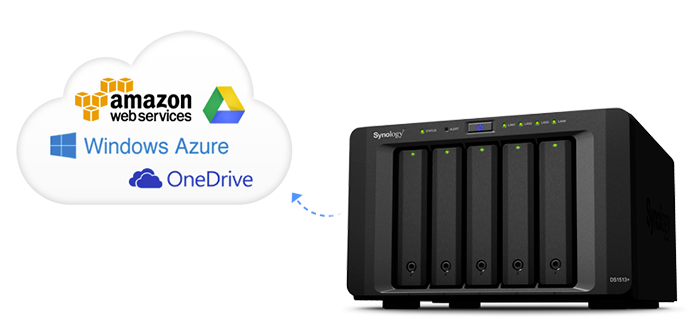 Manage drives and mirror data with SHR
No matter the brand or model, there's always a chance a drive might fail, possibly resulting in permanent data loss. For models with two or more hard drive bays, Synology Hybrid RAID (SHR) storage technology automatically manages storage capacity and mirrors your data across each drive. That way, your files remain readily accessible, even if a drive breaks or dies.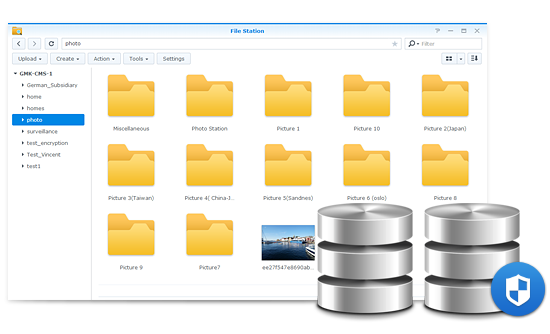 Defend yourself with modern security tools
Your data should be safe and private — no questions asked. Because the Internet is full of prying eyes, Synology NAS is equipped with robust security tools to prevent malicious attacks and make sure your data doesn't fall into the wrong hands. 

Firewall
Customize which IP addresses may connect to specific services or network ports according to the address range or even geological origin.

Denial-of-service prevention
Prevent DoS attacks from the Internet without negatively impacting the legitimate traffic when your users access data or applications.

IP Auto Block
Automatically block the IP addresses of devices which fail to log in a specified number of times, thus preventing brute force attacks.

AES encryption
Data encryption keeps shared folders on your hard disks strictly confidential — preventing those without the privileges from accessing their content.

Antivirus
Install Synology's free Antivirus Essential or purchase Antivirus by McAfee for additional peace of mind or to meet regulatory compliance.

2-Step verification
Prevent others from logging in to your DSM account by requiring a six-digit one-time password (OTP) generated on your mobile devices.

Close security gaps with Security Advisor
For most people, the world of network and data security is a confusing place. Thankfully, Synology's Security Advisor wizard is here to help. By automatically analyzing your system settings, password strength, and network preferences, Security Advisor informs you of potential security holes and locks down your Synology NAS. Spend less time managing security, and more time getting things done.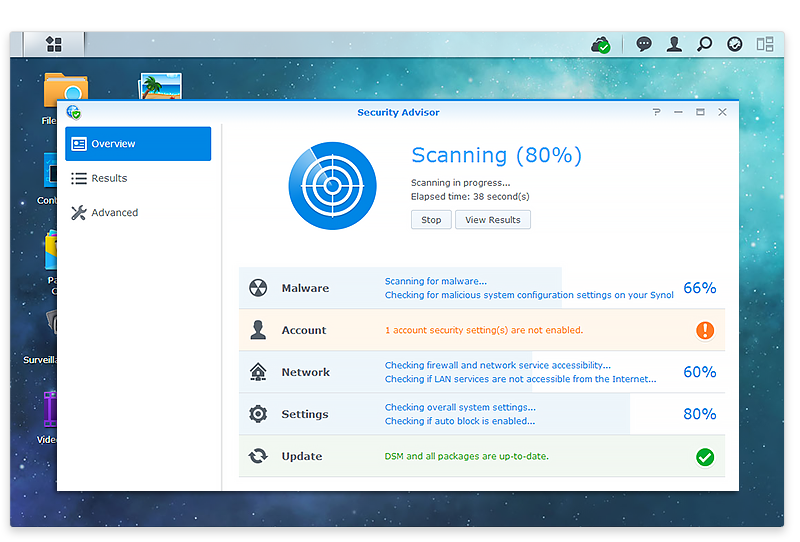 Snapshot and Replication
Snapshot Replication provides schedulable, near-instantaneous data protection, ensuring business data in shared folders, and virtual machines in iSCSI LUNs, remain safe and available in the event of disaster.

Support target
as frequent as 5 minutes for shared folder and 15 minutes for iSCSI LUN

Versions
1024 per shared folder and 65536
system-wide

Extended replication
flexible replication topology for different business structure

Flexible recovery
recovery available in common file protocols, File Station, and Windows Explorer

Flexible Extended Replication Topology
Flexible replication topology for different business structures

Active/active




Extended replication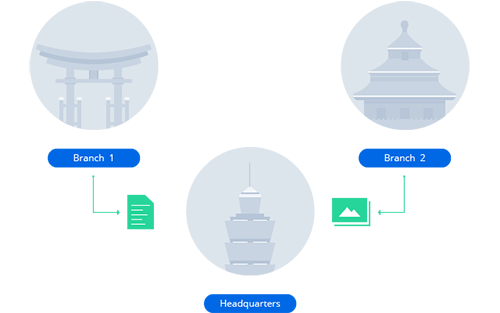 Hub-to-spoke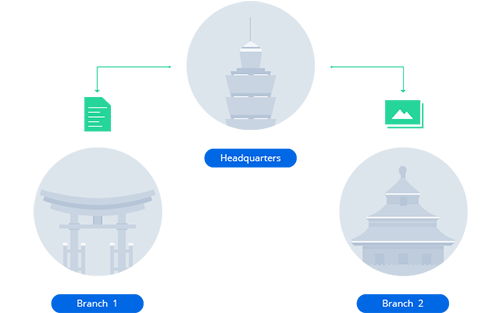 One-to-many

Self-service recovery
Recovery can be intuitively done with File Station or Windows File Explorer when  the operators are with eligible privilege, without the intervention of system administrator.
Disaster recovery for virtualization environments
Application-aware snapshots for virtualized workloads running on VMware and Hyper-V ensures data consistency of virtual machines. In addition, the support of VMware Site Recovery Manager simplifies the recovery process by allowing to start disaster recovery directly via VMware vCenter Server.
Flexible retention and replication methods
Snapshot Replication provides flexible retention and export/import methods for your replications to save your time, space, and bandwidth
Flexible retention policy
Retention policies can be customized differently on the primary server and recovery server to optimize the storage usage.

Export/import initial replication
The initial replication data can be delivered to the recovery server with the import function with physical storage device, avoid the long-wait time of the initial replication over the network.

Powerful administration tools
In addition to the snapshot protection, Snapshot Replication also provides great tools for system administrators to shorten the time required for actual failover and monitor each replication task effectively.

Assured recovery by running test failover
Test failover can be performed periodically as necessary to ensure the recovery procedures work as expected when real disaster occurs.

Reports for data transmission over WAN
Report is generated for each replication task which can be useful for IT administrator to further evaluate and optimize for the network environment.
High Availability
Unexpected service disruptions can cost your company big as well as cause logistical headaches for your IT department. Synology High Availability (SHA) alleviates these issues and delivers a hassle-free method to mirror data and maximize your service uptime. SHA is available on select Synology NAS.
How does it work?
SHA combines two Synology NAS servers into one high-availability cluster (or HA cluster). One server assumes the role of active server, while the other becomes a standby passive server. The active server handles all data requests and services, while everything is continuously replicated to the passive server. This provides a complete hardware and data redundancy solution in case of unforeseen accidents. Watch the video to learn more about SHA.


Real-time protection
With the real-time data mirroring mechanisms, SHA makes sure your data is safely stored on another physical unit. This real-time replication ensures that in the event of hardware failure, all data can be accessible soon after.
Automatic fail-over
The two servers communicate via a Heartbeat connection. When the active server becomes unavailable, the passive server automatically kicks in and takes over all services without human intervention. The smooth transition ensures maximized service uptime so the clients won't even notice something went wrong.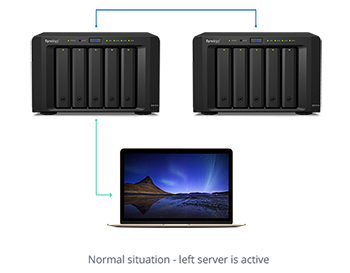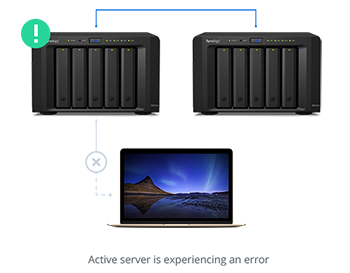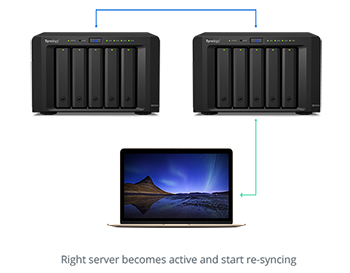 Robust HA solution
Synology High Availability makes the cluster robust and stable for resource-demanding services, such as storage for virtualization. With real-time data replication, the passive server can resume the majority of running services whenever needed.
Virtualization ready
Synology NAS is an ideal target for accessing virtual machines through iSCSI. SHA ensures stored virtual machines are constantly available. Certified for VMware, Citrix, and Windows Server, a Synology NAS also benefits from a user-friendly LUN manager for rapid creation, cloning, or removal.
Highly available application server
Intuitive application serving is an essential part of the Synology experience. Whether it's file services, web service, or Cloud Station, most Synology packages and built-in services are compatible with SHA to maximize uptime when hardware failure occurs.
Additional features
The user-friendly design reduces the effort required for setting up a powerful HA cluster. The quorum server further enhances the stability when the passive server needs to take over the services.
Hassle-free installation and maintenance
The intuitive user interface makes SHA super simple to set up and get running. With its handy, built-in management tools, you can easily monitor the HA cluster and perform maintenance, without needing to acquire additional technical knowledge.
Quorum server ready
The timing for the passive server to take over the main operation is critical. Quorum Server plays the key role in reducing the occurrence of split-brain effectively, thus maximizing service continuity and data consistency.
iSCSI Storage
Synology provides storage solutions for virtual environments of high performance and reliability. These solutions ensure the continuity and efficiency of business for large and demanding enterprises.
Certified storage
Synology storage solution supports most of the productivity-enhancing virtualization solutions, such as VMware® vSphere™, Microsoft® Hyper-V®, Citrix® XenServer™, and OpenStack Cinder.

High performance
With a small upfront investment, businesses can benefit from significant server performance enhancement. With the SSD cache write mode, data is first written on the SSD then flushed back to hard drives afterward. A single SSD cache mounted volume can consist of up to 12 SSDs, so you can simply accelerate read and write speeds by adding additional SSD cache on heavy load application servers that require high random IOPS.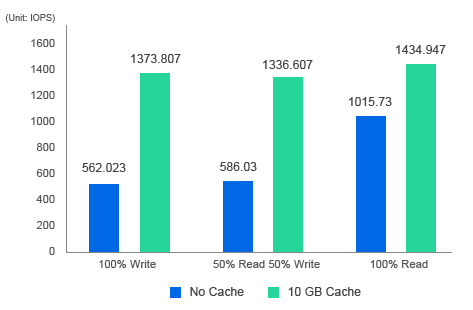 Advanced VMware support
Synology NAS is officially certified for VMware vSphere 6.5 and VAAI support. Full VAAI support includes Hardware Assisted Locking (ATS), Block Zero, Full Copy, and Thin Provisioning while VAAI NAS enables Full Clone and Reserved Space.
Hardware Assisted Locking
Create multiple VMs 9 times faster with ATS enabled.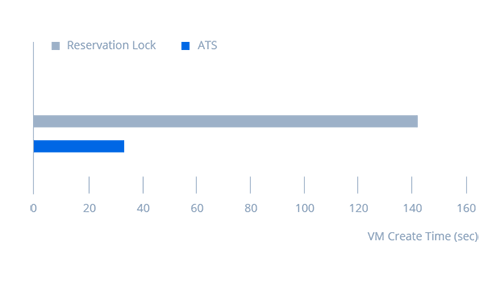 Block Zeroing
Create VMs with Write Same support nearly 140 times faster than on a non-VAAI LUN.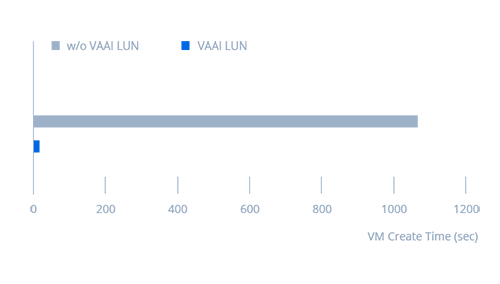 Full Copy
Copy VMs on a VAAI LUN 34 times faster than on a non-VAAI LUN.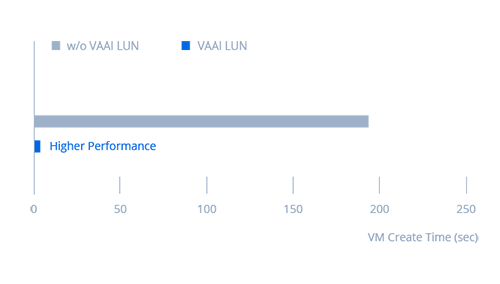 VAAI benefits
Faster VM performance is achieved by offloading cycles from ESXi to the storage array.
More effective utilization of storage arrays delivered by virtual machines with VAAI support.
Better flexibility when deploying and migrating VMs.
Higher storage performance and efficiency with VMFS-5 file system.
Smoother access and management with load balancing automation in Storage vMotion.
Windows ODX integration
This cutting-edge technology removes the middle man and allows your Windows server to offload data transfers to DiskStation without your data needing go through the server host. By using ODX, the speed for data manipulation increases dramatically, and since the data transfer is offloaded, the CPU usage of the host server and the network bandwidth utilization shrink to minimum values, which allows the server to handle more important tasks.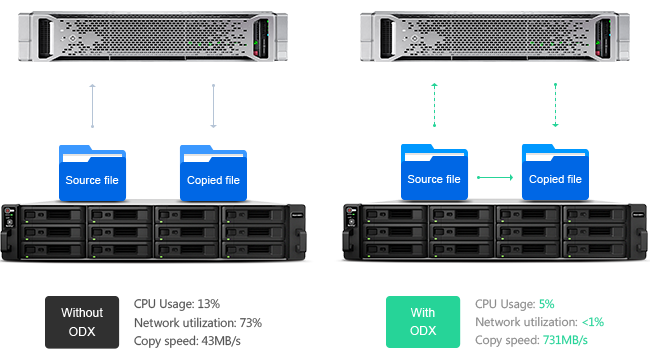 High reliability
Ensures business continuity.

LUN snapshot and replication
Snapshot Replication allows you to create up to 256 application-consistent LUN snapshots, offering virtual machine data and status consistency under VMware vSphere or Windows environment.

Synology High Availability (SHA)
SHA is a cost-efficient, easy to set up, and powerful solution to business continuity. By connecting two Synology NAS together, you can ensure that data and services are always available for all your users if one of the servers happens to malfunction.

LUN Clone
Synology's LUN Clone allows you to create near-instantaneous virtual LUN copies with a simple click. For system engineers, this delivers much higher productivity and simplifies the complex process of system-wide deployment.

VMware Site Recovery Manager
VMware Site Recovery Manager allows users to enable disaster recovery directly via VMware vCenter Server, simplifying complicated configurations and optimizing the process.

Seamless Integration Tools
Your Synology NAS supports data storage automation and capacity management by OpenStack Cinder and Microsoft SCVMM through SMI-S Provider.
Mail Server
MailPlus
The MailPlus suite allows your business to set up a secure, reliable, and private mail server while giving your employees a web-based client for managing emails and boosting productivity.
Intuitive & Powerful MailPlus
MailPlus is an intuitive and powerful webmail client for organizing emails, checking company address books, and sharing mailboxes with work partners.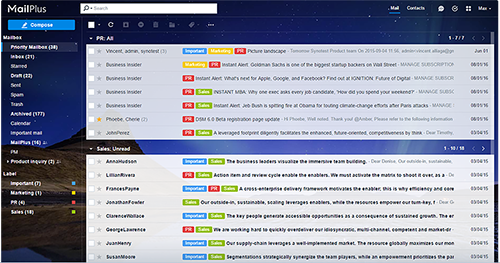 Priority Mailbox
Shows emails from specific mailboxes or labels in one view for centralized management.
Shared Address Book
When joining an LDAP server or Windows AD domain, MailPlus can make an address book accessible to all employees.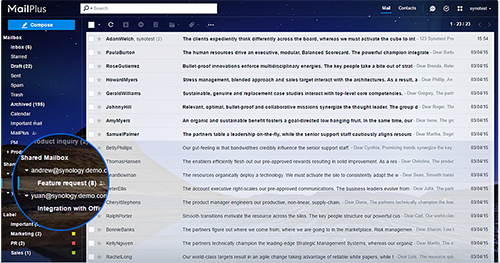 Shared Mailbox
Share mailboxes with work partners to track projects together.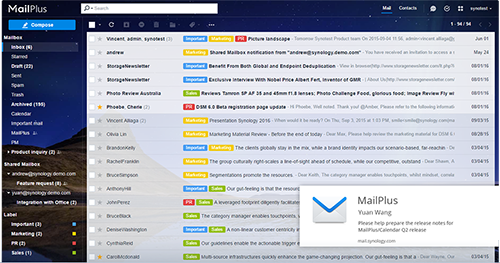 Push Notification
Get browser notifications when emails arrive in to important mailboxes or with specific labels.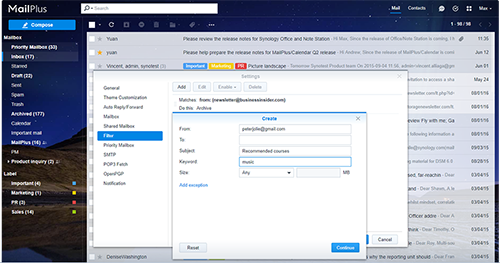 Smart Filters
Automatically sort and label incoming emails by custom rules.

Integration with Collaboration Packages
MailPlus is seamlessly integrated with Synology Chat and Synology Calendar, making itself a hub of task communications and scheduling. With the Chat and Calendar plug-ins, you can dive into project discussions and add emails to your to-do list right from MailPlus.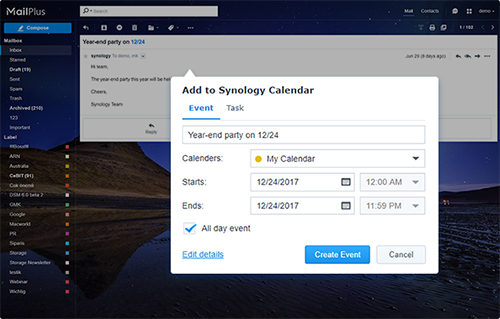 Manage to-dos with Calendar task plug-in
Schedule your work life with this versatile plug-in. You can view all your to-dos and add more directly from emails to Calendar, right in MailPlus.
Add events from emails to Calendar
Click on data/time in your emails to create a new Calendar event.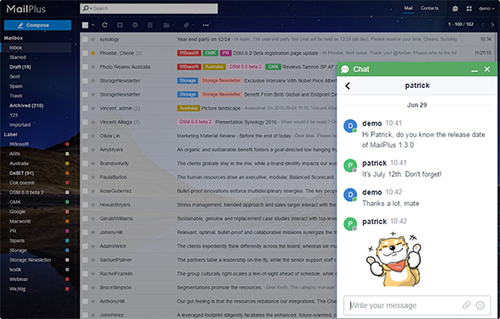 Communicate through Chat plug-in
Start work conversations instantly while checking emails.

Reliable & Intuitive MailPlus Server
MailPlus Server transforms your Synology NAS into a reliable and intuitive mail server, making server management fast, intuitive, and hassle-free.

Easy Setup
Build a mail system quickly on your Synology NAS without extra costs and further IT consultation.

Mail Migration & Configuration Import
Migrate external emails to MailPlus Server and reuse system configurations from Microsoft Exchange for quick system replacement.

Global Black & White Lists
Set up rules in one place to reject unwanted emails and allow through important messages.

Group/User Policies
Customize user and group policies on their login methods, daily email traffic, and mail delivery.

High-availability Design
Maximize mail service uptime during system upgrades and hardware replacements by switching the mail system to the paired server in seconds.
Productivity
Office
The professional editing tools offered by Office help you create work documents and spreadsheets with ease and efficiency, while real-time synchronization and saving allows your team to achieve solid productivity and ensure data security at the same time.
Generate work documents with powerful application
Document
Organize your writing with the handy editing tools, enrich your content with the function of image altering and shaping, collaborate with your team to spark everyone's wisdom, and provide feedback for coworkers through the revising mode.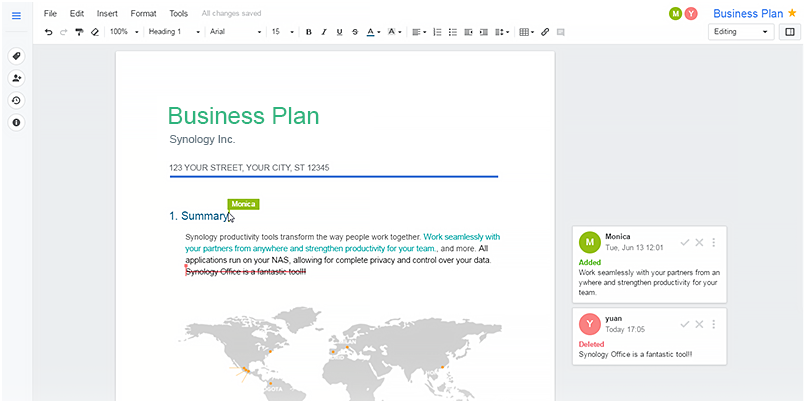 Spreadsheet
With built-in formulas, vivid charts, and conditional formatting options, common spreadsheet tasks such as creating sales reports, calculating travel expenses, and compiling to-do lists become just a piece of cake, providing great convenience in not only the workplace but your day-to-day life as well.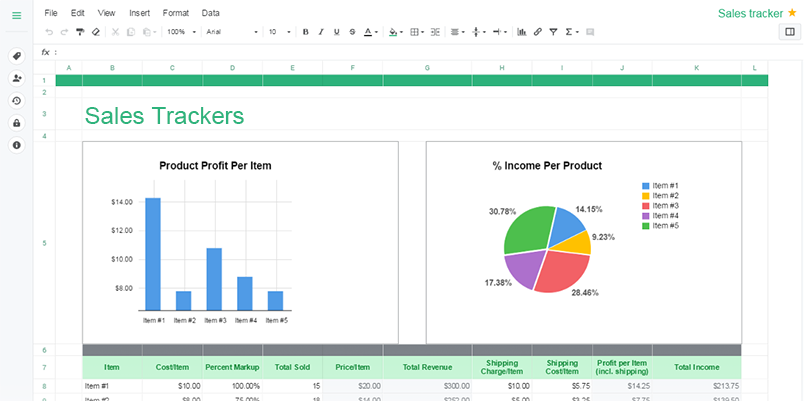 Easy collaboration
Real-time syncing
Multiple team members can work simultaneously on one document and interact by leaving comments to boost productivity and achieve effective collaboration.
Immediate communication
Chat plug-in allows you to conduct quick discussion while working on documents, and with the notification features, you'll never miss any important updates.
Compatible with Excel and Word
Excel and Word files can be converted into spreadsheets and documents on Synology Office, and vice versa.
Synology Spreadsheet supports 300+ formulas and a wide range of format options, enabling you to use existing Excel files without any hassle.
Data privacy and security
We ensure the security and privacy of your brainstorming achievements.

Private cloud
Enjoy the convenience and usability of public cloud services as well as the data security guaranteed by private clouds.

Encrypted files
Encrypt your confidential spreadsheets and documents to acquire advanced protection.

History versions
Navigate all revisions made on your projects with team members and restore any previous version with just a click.