Storage Solutions For Home

Solutions for Backup, Storage and File Management
File Syncing
Cloud Station Suite
With Cloud Station Suite, every change made to your files will be automatically synced to other devices such as PCs, mobile devices, or another Synology NAS, while multiple data versions are retained so that you can recover files from a previous point-in-time when needed.
File Synchronization
Cloud Station Suite features Selective Sync and offline editing, enabling files to seamlessly sync to different devices once the devices are connected to the Internet. Users can choose one-way or two-way synchronization according to their needs.
Selective sync
This feature allows you to sync files to certain devices according to file format or size. For example, you can sync only the critical files in small sizes to mobile devices and sync large files to your DiskStation, thereby flexibly deploying the storage space.
Offline editing
All the changes made during offline editing will be synced to Cloud Station once your device is reconnected to the Internet. For example, the annotations created on PDF files via DS Cloud during offline will be synced to other devices once it is reconnected to the Internet.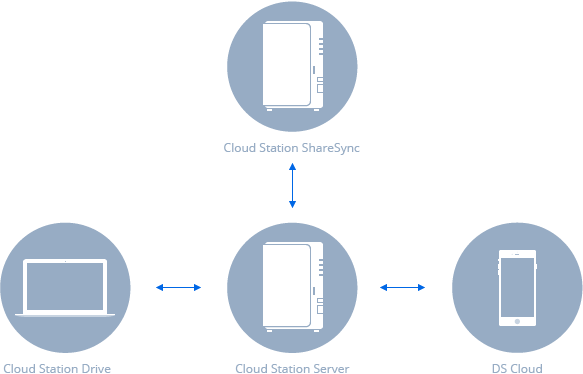 Cloud Station Suite on your Synology NAS
Effortlessly manage a secure and intuitive private cloud.
File versioning
Historical versions of a single file will be retained for users to restore files to a particular point-in-time. Intelliversioning retains only the most important file versions, allowing users to go further back in time.
Point-in-time recovery
Version Explorer allows you to view the historical versions of your backed up data. Even when unforeseen disasters such as hardware damage or ransomware attacks occur, you can easily restore files or folders to a specific point-in-time within a few clicks.
2-step verification
The support for 2-step verification prevents malicious parties from taking advantage of weak or stolen passwords and hacking your sensitive data stored on Cloud Station, ensuring that your data is always safeguarded.
Encryption and compression
Equipped with mature and advanced encryption feature, Cloud Station ensures that your data is securely stored. In addition, storage consumption can be minimized because data stored on Btrfs shared folder volumes can be compressed.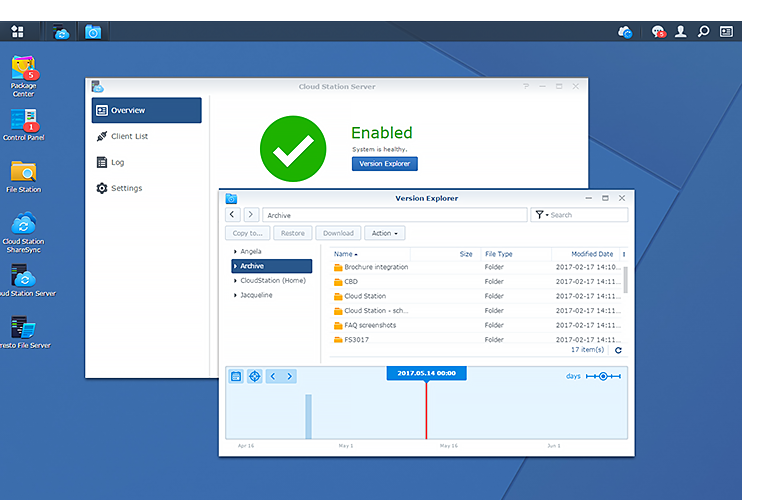 Monitoring and Management
Cloud Station Suite comes with detailed logs and tools for administrators to monitor and manage various tasks.

Synchronization logs
Logs are provided on every Cloud Station Suite package, keeping track of who edited, deleted, or restored a certain file from a specific device when multiple people are collaborating on the same file.

Device permissions
Access permission can be assigned to user groups and IP addresses, allowing administrators to permit users to access Cloud Station only when their devices are connected to a specific network, such as an intranet or VPN.

File permission
With Windows ACL, you can specify detailed access rights and fine-tune users' read, write, and administration permissions for individual files; therefore, files can be synced to PCs and mobile devices according to the configurations.

Bandwidth control
Speed limit allows administrators to control the maximum bandwidth consumption for each user or group, thereby reducing speed bottleneck during heavy network traffic.
Stay updated with notifications
When certain events or errors occur, DSM-based Cloud Station ShareSync will send emails and DSM desktop notifications to the administrators and users alike.
Photo Album
Photo Station
Photo Station lets you efficiently manage photo storage, share and access files on the go, collect client feedback, and do a lot more.
Brand and Broadcast Your Photography Business
Build a personal gallery to showcase your photography online.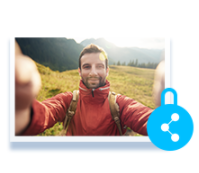 Set a shared link
Distribute your photo gallery through one secure shared link with custom permission levels.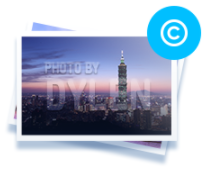 Add signature watermarks
Protect and promote your creative photo assets with custom watermarks.
Easy Management
From local drives to your Synology NAS, your photos will be organized in the same structure, and into smart albums with custom criteria.
Minimize Photo Arrangements
Uploaded photo folders are automatically turned into albums that follow the original structure to save you from reorganizing photos.
Embrace Popular Metadata Standards
Popular metadata standards — XMP, Exif, and IPTC — are supported to make it easy viewing, editing, and searching photo tags.
Smart albums
Group photos and videos into topical albums by custom criteria and selected tags.
Streamline Photo Sharing
Share photos with shared links, on personal blogs, and on popular social networking websites for strategic branding.

Share albums with public shared links
Gather peer feedback and instantly interact with your clients.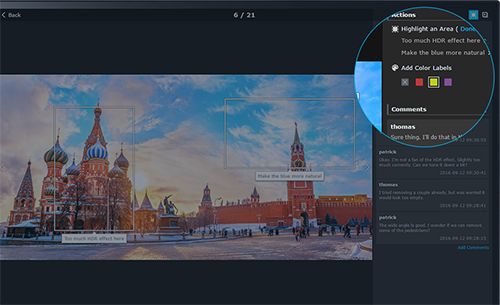 Set up labels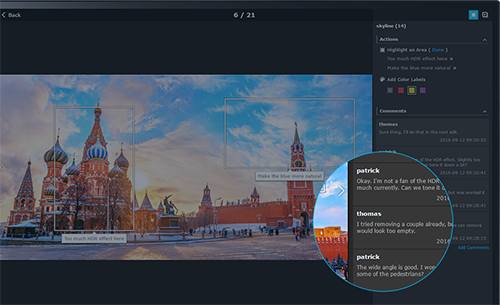 See comments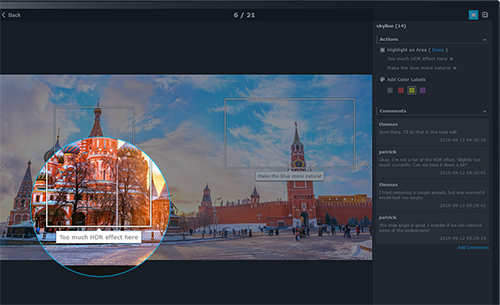 Highlight areas

DS photo
Save your mobile photos to Photo Station through manual upload or automatic backup, and stream them to smart TVs and other devices for expanded viewing.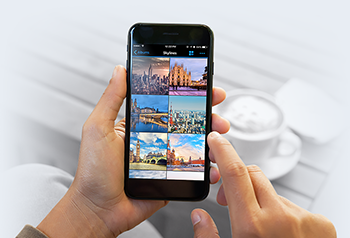 Browse on the go
View photos with iOS, Android, Windows Phone devices, and Windows 10 tablets/labtops.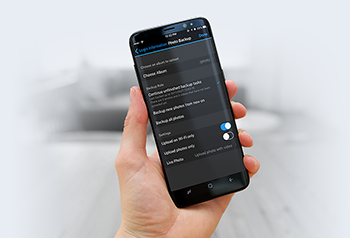 Backup on demand
Back up your mobile photos manually and automatically to free up mobile space.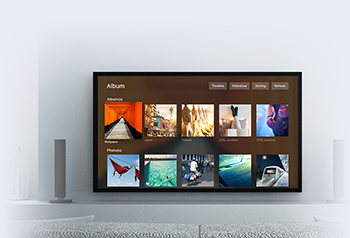 Display on big screens
Show photos through our native apps for Android TV and Apple TV, and stream them to Chromecast and DLNA devices for display.

Download and experience now
DS photo is available for iOS and Android users, for free. You can download the apps through App Store or Google Play.


Android

iOS
Music Library
Audio Station
Enjoy high-quality playback, listen to radios, manage own music collection, create personal playlist and share with friends on Audio Station and its mobile app DS audio everywhere.
Intuitive & Versatile
Audio Station is your intuitive and versatile music library for exploring, sharing, and managing music collections all in one place.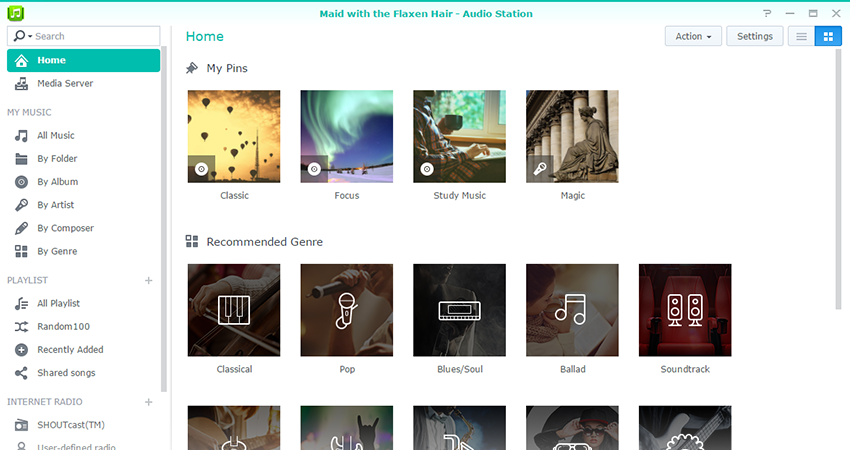 Surround yourself with high-quality playback
Store your music collections on the Synology NAS, and savor near-original quality of audio tracks through Audio Station.
Lossless
Preserve audio details in music by streaming DSD or FLAC files to your high-quality player.
Gapless
Enjoy seamless live music as if you were there, by streaming to a web browser, a USB/Bluetooth/AirPlay speaker.
Equalizer
Customize sound effect levels to get the best listening experience with USB speakers.
Enjoy Music Across Devices
Audio Station allows you to play music by streaming to music players and mobile devices.
Stream music seamlessly
Audio Station supports streaming music from your Synology NAS to local computers, USB speakers, media renderers, AirPlay, Chromecast Audio, or Bluetooth devices.
Your music, always around you
Enjoy high-quality sound with DS audio on iOS, Android, or Windows Phone devices. Save songs to your device and savor your music on the go.
Enrich your smart life with Amazon Alexa
With voice commands, you can easily control the playback of songs, albums, and customized playlist streaming to your Alexa device.
Update your song tags all at once
Audio Station allows you to manually update missing mp3 tags with a few clicks. With complete song information, you can easily create smart playlist and share with others.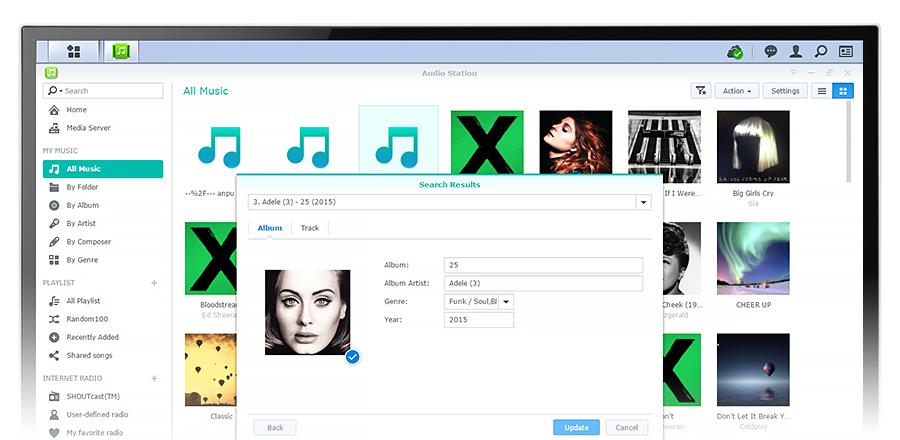 Download and experience now
DS audio is available for iOS and Android users, for free. You can download the apps through App Store or Google Play.



Android

iOS
Video Collections
Video Station
Video Station helps you manage all the movies, TV shows, and home videos on your Synology NAS. Moreover, it can stream videos to various devices — computers, smartphones, media players, and TVs — to provide you with non-stop, fun watching experience.
Watch Everywhere
Have non-stop fun watching videos through computers, mobile devices, and digital TVs.
On TVs
Stream videos to Apple TVs, Android TVs, Roku TVs, Samsung TVs, Google Chromecasts, and DLNA devices.
On the go
Stream or download videos to Android, iOS, and Windows Phone devices.
On computers
Play videos with various browsers and the Windows 10 native app.
Get Posters, Subtitles, and More
Enrich your video collection with posters, subtitles, and further video details.
Video information
Auto-download video posters and information from online databases.
Subtitles
Search and sync subtitles automatically based on personal settings.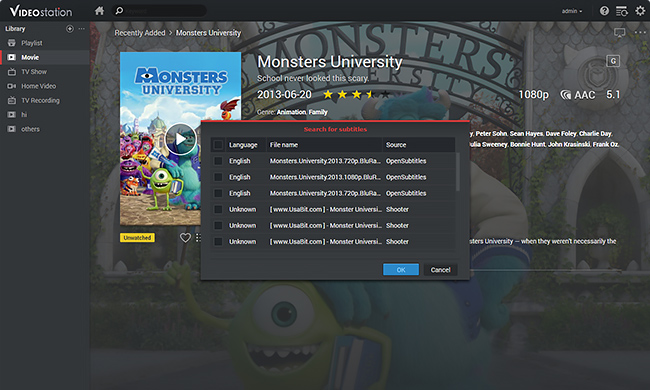 Customize Sharing Policies
Share videos with customized policies to protect your digital privacy.
Public sharing
Share videos via a public-sharing link with customized validity.
Account users
Regulate account users' access to specific video libraries by username.
Parental control
Allow special access to restricted videos with a 4-digit PIN code.
Explore Personal Libraries
Let's explore your growing video libraries for more videos and fun.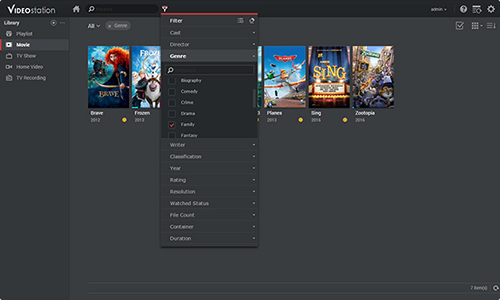 Advanced search filters
Refine video search with filters like cast, director, watched status, and more.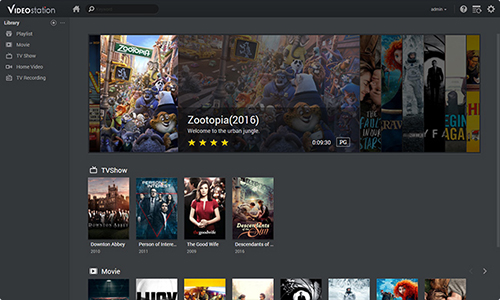 Recommended videos
Find more recommended videos on the homepage according to your personal preferences.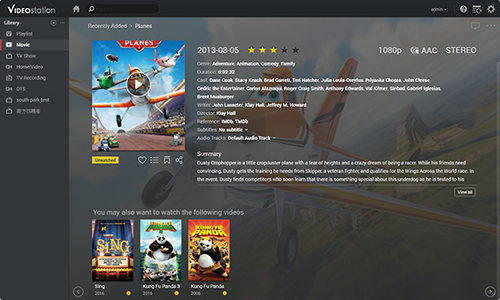 Related videos
Find more videos similar in genres, release dates, and other attributes.

Download and experience now
DS audio is available for iOS and Android users, for free. You can download the apps through App Store or Google Play.



Android
iOS
PC Backup
Desktop backup
Synology NAS protects data stored on any device, whether it's a Windows computer, Mac, or other devices.
Cloud Station Backup for PC protection
Featuring real-time incremental backup technology, your data stored on a PC can be backed up to a Synology NAS instantly, using minimal system resources, bringing a truly comprehensive and secure private cloud experience.
Incremental backup: fast while reducing performance impact
Cloud Station provides an optimized PC backup solution. With the incremental backup technology, Cloud Station backs up only the modified files and divides them into even smaller parts, demanding significantly less system resources than traditional backup methods.
Real-time backup saving you from massive data loss
Cloud Station Backup carries out the most complete backup tasks in real-time. When data is voluminous, real-time backup prevents massive data loss due to unexpected disaster during backup cycles.
USB Copy 2.0 for external device protection
With minimal configuration, USB Copy auto-copies files and folders from your Synology NAS to attached USB/SD storage or reversely for efficient data exchange and backup.
Simple and smooth
Hot-plug a USB/SD device to auto-run a matched copy task, and remove it when receiving completion beeps and LED alerts.
Customize copy behavior by device
Customize each device's backup destination, copy mode, file-type filter, and conflict policies. All the settings will be remembered for instant application upon hot plug-in.
Optimize photo/video backup
Sort a large number of photos and videos imported to your Synology NAS into date-named folders, making files easy to locate and organize.
Time Machine for macOS protection
Using Time Machine, you can easily back up data stored on macOS to Synology NAS.
Automatic usage control
With quota limitation set on multiple shared folders in Btrfs volumes, older versions will be automatically deleted when the set backup share is almost reached, which prevents excessive storage consumption.
Advanced protection
The SMB3 protocol is supported to further strengthen reliability and integrity of data backup. By using Cloud Sync, you can even have your backup replicated to public cloud storage to complete the 3-2-1 backup strategy.
External Storage Replacement

Tired of external hard drives? Get Synology NAS!
Have you ever rushed back to the office after leaving for the day, just because you forgot to take your external hard drive with you? Or simply couldn't find the flash drive that contains your PowerPoint presentation before an important meeting? Now centralize all your data with DiskStation – and access the files you need quickly and easily, wherever you are.
Traditional data storage
Files are saved on several flash drives or external hard drives. Keeping track of data is difficult and tedious, making it inconvenient to take files with you on the go.
New data storage – DiskStation
Just one compact, little box is enough. Access files anytime and anywhere, without the need to bring any storage device with you.


Massive storage capacity for all kinds of data.
Do you own a number of external hard drives, but can never find important files when you need them most? DiskStation boasts massive storage capacity, letting you save all the precious photos, high-definition videos, and work documents without thinking twice. When moving or organizing folders from different years, there's no need to plug in and unplug multiple flash drives – it's as easy as having all the data on your computer.
Leave the external drives behind. Get your files whenever you need them.
When was the last time you forgot to bring your flash drive with you? Just store everything on your DiskStation, and it'll be there always wherever you go. Whether it's your presentation slides for an important meeting or a fun video for a party, the files are all right at your fingertips. Even when an Internet connection is unavailable, you'll still be able to access files on various devices.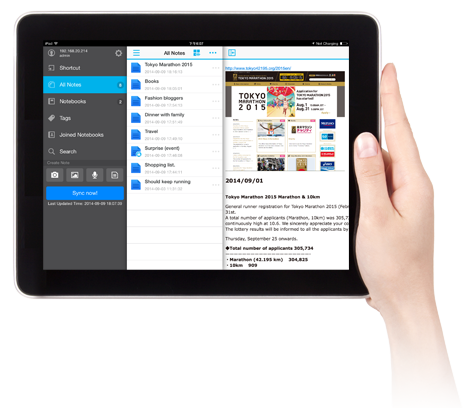 Don't stop at storage. Reach out to the world.
An external hard drive can only store photos or videos from one device at a time. When you feel like sharing them with others, you need to hand them the drive or upload them to a web album. DiskStation liberates all of your photos and documents from the limitations of location or time. With DiskStation, you can share memorable moments with family and friends with a few simple clicks. Even when they're thousands of miles away, exchanging large video and image files is a piece of cake.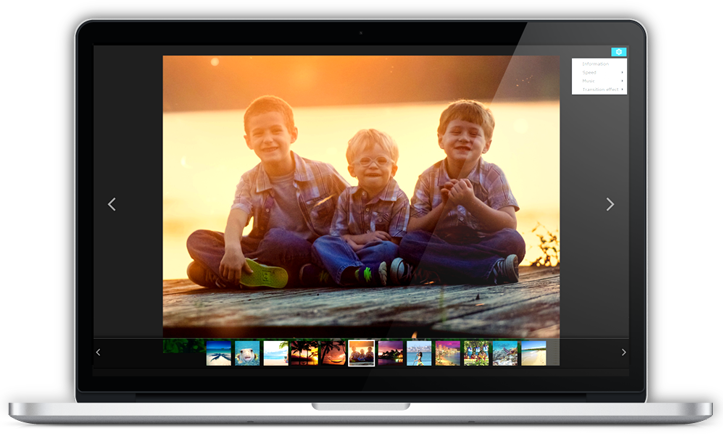 Share with your family. Never waste a penny.
Have you spent a fortune on a large-capacity external hard drive, but still need to purchase another for a family member because you can't both take them out of the house? With DiskStation, just share its storage space with family members – a small investment that's going to benefit the whole household. You can set up storage limits for each member, or customize the access to specific folders to so only you can view the contents.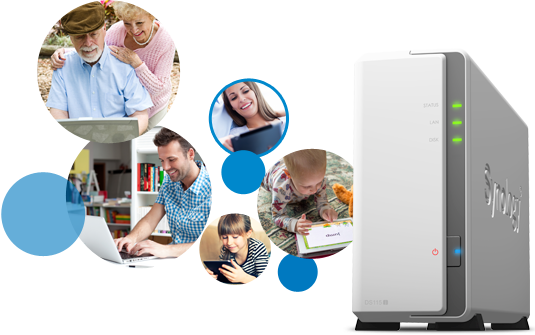 More great features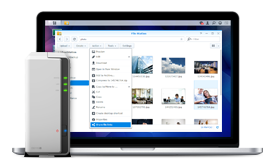 Your precious data can't afford any risks. DiskStation includes robust tools to automatically back up files in Mac or Windows computers. It's that easy.
Hard drives don't last forever, but your data should. DiskStation maximizes data protection – so your files remain safe and sound, even if a hard drive fails.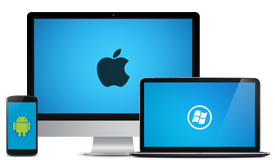 No matter you're using a Mac or Windows computer, or an iOS, Android, or Windows Phone device, DiskStation works perfectly with all of them.
Perfect for beginners
Just a small step will bring you infinite possibilities. DiskStation opens the door to a fascinating cloud storage era for you at affordable prices.
DiskStation DS115j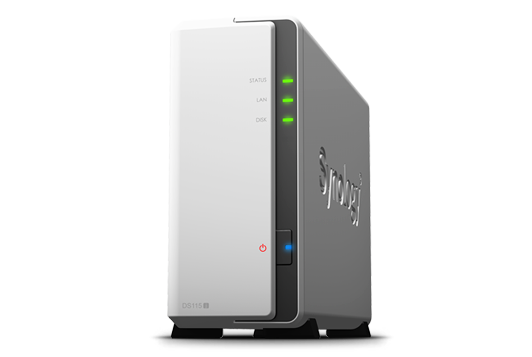 With a single drive bay that can contain 10TB of storage space, DS115j lets you access and share your data as you wish.