Network Storage Solutions for the Photography and Creative Industries

Solutions for Backup, Storage and File Management
Using Synology DiskStations in Photography Environments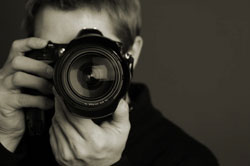 Benefits of Synology DiskStations in the Photography Industry
Reliable: Redundant data backup
Remote Access: Never be without a file with simple Remote Access
Affordable: Solution for even the smallest budget
Flexible: Stream to DLNA devices for a showcase of photos and video
Value: Get more for your money with Synology solutions
Read the Success Stories:
One Rock Studio Finds Balance and Affordability with Synology
All Pop Art
Sideshow Collectibles
Imulus
Read the White Paper: Small Business Data Storage Solutions: Which Direction Should Your Creative Company Take?
Recommended Features for Photography and Creative Industries
File Station
Backup Solutions
Web Station
DLNA
From a one person photography company to a full studio of photographers, film cameras are virtually non-existent in today's industry. Digital cameras are more precise, provide instant verification of a great shot, and there is no loading and unloading of film. There are, however, tens and even hundreds of thousands of small digital photo files to be stored and managed. With a Synology DiskStation has a central backup and file server, photographers are able to ensure their work is protected against disk failure by a RAID configuration yet accessible from the office or offsite.
Photographers and videographers are often in the field and not in the office or studio, so remote access is essential for the artist to upload, view, and share files stored on the DiskStation. Whether from a laptop at a client's home or on their smartphone, photographers will never have to be without access to their entire catalog again.
Another key component of and photography business is the website, often a customer's first impression of the style and capabilities of the company. Synology DiskStation Manager makes it easy to host your own website with Web Station, no need for pricey online hosting fees with limited control over your own website.
DiskStation Manager can also stream media via UPnP or to any DLNA-compliant media device, providing a variety of ways to display and showcase photographs and video.