MailPlus License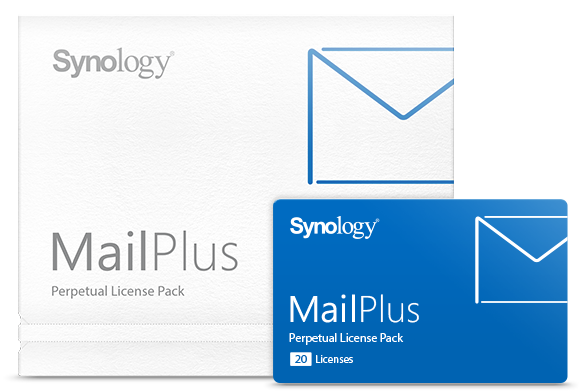 Notes:
Once the purchased license key is applied, all its included licenses will be activated at the same time.
The activated licenses remain permanently valid unless the registered Synology NAS is down.
For any special need for license migration (e.g. RMA products), please contact Synology Support team for further assistance.
Synology Products
Synology MailPlus
Synology MailPlus License
- 5 Licenses
#MailPlus-5-Licenses
Our Price: $250.00
Synology MailPlus License
- 20 Licenses
#MailPlus-20-Licenses
Our Price: $1,000.00
Click here to jump to more pricing!
Overview:
The MailPlus and MailPlus Server packages allow your business to set up a secure, reliable, and private mail server, while giving your employees a modern mail client to receive and send messages. Furthermore, MailPlus and MailPlus Server are packages that can be installed on your Synology NAS, so there's no need to rely on third-party services. Best of all, MailPlus comes with 5 free accounts and offers a cost-effective licensing plan for you.
A secure, private, and cost effective email solution
High-availability architecture maximizes the service uptime
Seamless integration with LDAP server or Windows AD domain for your company's shared address book
Specially designed algorithm for high speed full-text search
Beautifully designed and intuitive mail clients let you manage emails efficiently
Cross-platform support on web client and Android™/iOS with dedicated mobile apps
Features:
Licensing Plan
Synology MailPlus comes with 5 free email accounts and allows you to add more accounts with additional purchased licenses. We provide two kinds of license packs to suit your needs: 5 or 20 units of email accounts1, both with perpetual validity2. The included licenses can only be applied to one Synology NAS, and cannot be migrated3 to another Synology NAS once activated. In addition, email aliases are not considered as email accounts and therefore do not require any license for use.
High-availability Architecture
No additional fee will be charged for the high-availability support in MailPlus, and one cluster includes 10 free mail accounts by default. To have more licensed email accounts for use, you need to apply purchased license keys from Synology. For example, if you want to enable 25 email accounts in the high-availability cluster, then 15 additional licenses are needed.
MailPlus Web Client and Mobile App
MailPlus web client and its mobile app (available for Android™ and iOS) do not charge fees for use, and they will be updated regularly for free with MailPlus Server.
License Activation and Account Management
To apply purchased license keys, you will have to log in to the Synology NAS as the administrator. Then, open MailPlus Server and go to License to apply the keys (Internet connection required). One license key can only be applied to one MailPlus supported Synology NAS.
Intuitive & Powerful MailPlus
MailPlus is an intuitive and powerful webmail client for organizing emails, checking company address books, and sharing mailboxes with work partners.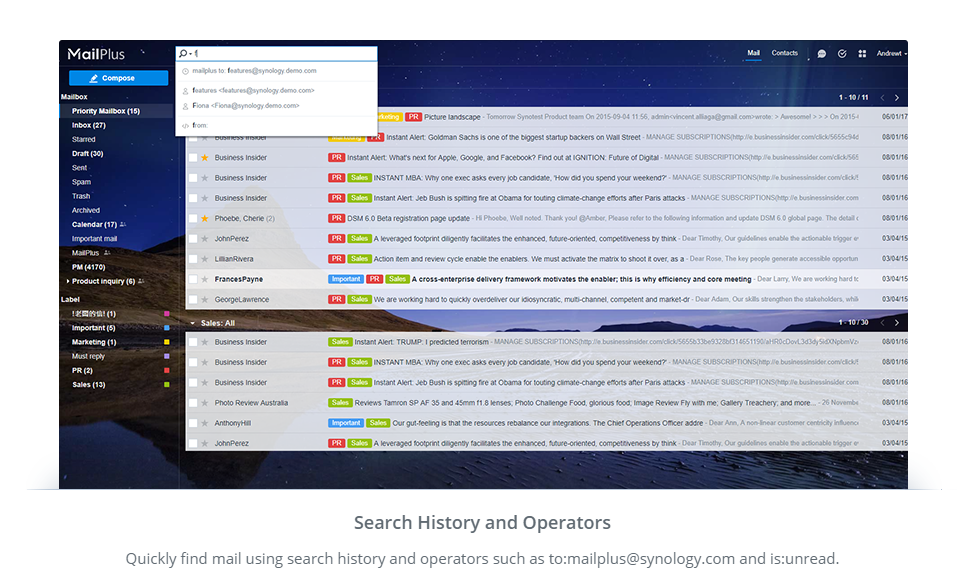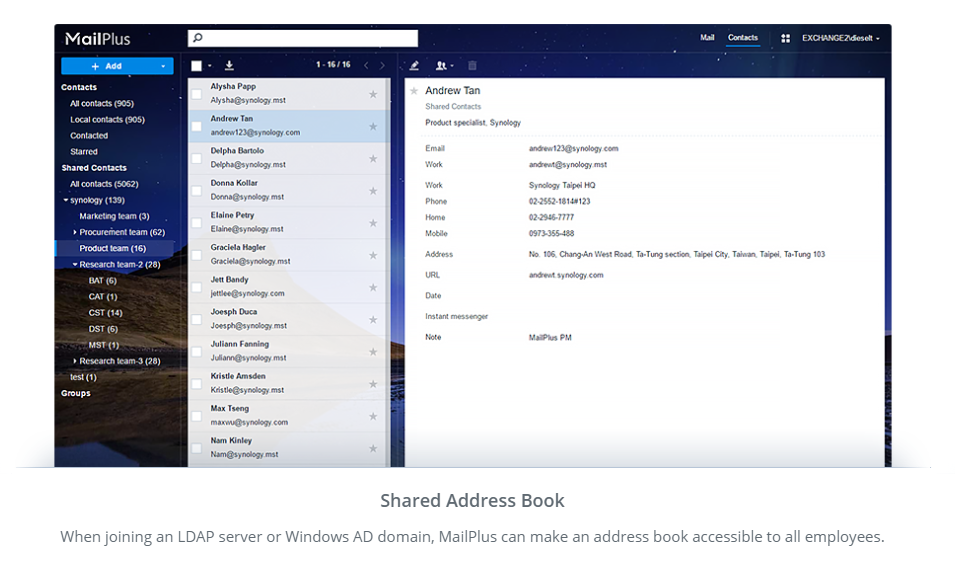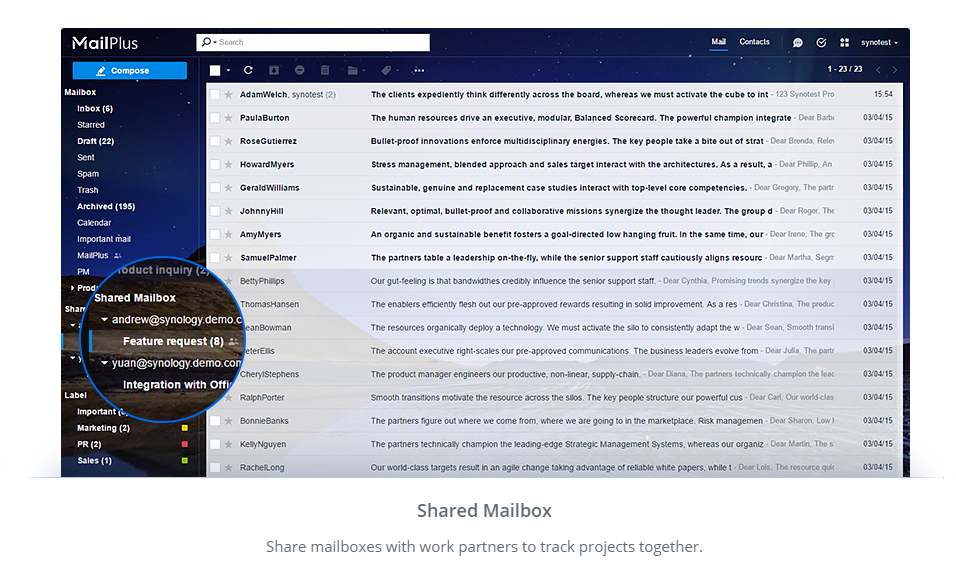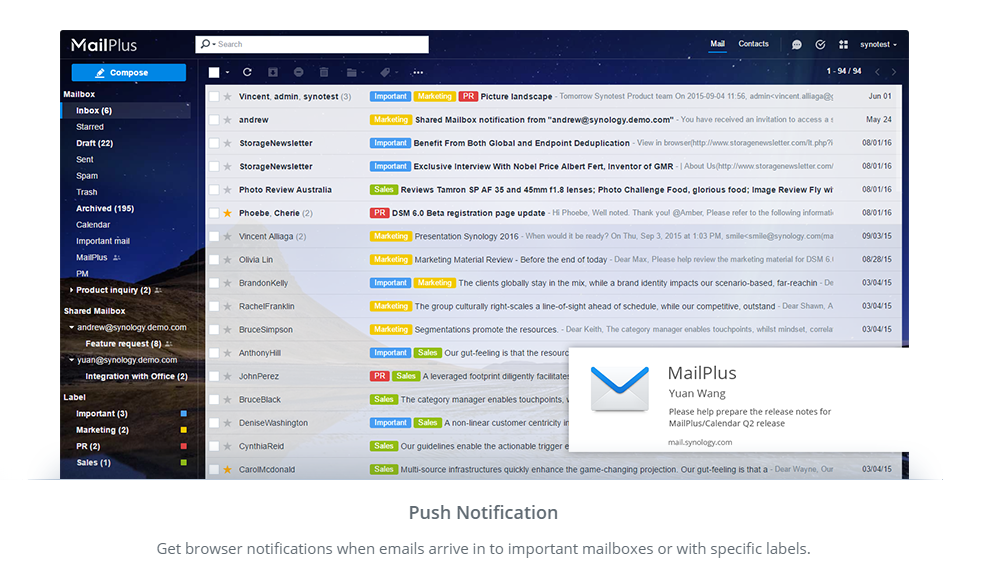 Pricing and product availability subject to change without notice.
Synology Products
Synology MailPlus
Synology MailPlus License
- 5 Licenses
#MailPlus-5-Licenses
Our Price: $250.00
Synology MailPlus License
- 20 Licenses
#MailPlus-20-Licenses
Our Price: $1,000.00