Synology RAM Module

For expanding your Synology DiskStation memory capacity
RAM capacity can be expanded on selected Synology NAS servers for boosted performance and responsiveness under high system loads. To ensure the optimum durability and compatibility, always select Synology authentic RAM modules from your local distributors and follow the installation instructions in your product quick installation guides.
DDR3 Memory Module
SO-DIMM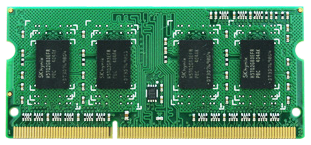 Synology Products
Synology SO-DIMM RAM Module
Synology 4GB DDR3L-1866 unbuffered SO-DIMM 204pin 1.35V
#D3NS1866L-4G
Our Price: $75.00
Synology 4GB DDR4-2133 non-ECC unbuffered DIMM 288pin 1.2V
#D4N2133-4G
Our Price: $92.00
Synology 4GB DDR3-1600 unbuffered SO-DIMM 204pin 1.35V/1.5V
Sorry, this product is no longer available. Please contact us for more information.
Synology 8GB DDR3L-1600 unbuffered SO-DIMM 204pin 1.35V/1.5V
#RAM1600DDR3L-4GBx2
Our Price: $128.00
Synology 16GB DDR3L-1600 unbuffered SO-DIMM 204pin 1.35V/1.5V
#RAM1600DDR3L-8GBx2
Our Price: $238.00
D3NS1866L-4G - 4GB
DDR3L-1866 unbuffered SO-DIMM 204pin 1.35V
Applied Models
Synology DiskStation: DS918+, DS718+, DS218+, DS418play
D4N2133-4G - 4GB
DDR4-2133 non-ECC unbuffered DIMM 288pin 1.2V
Applied Models
Synology RackStation: RS2818RP+
RAM1600DDR3-4G - 4GB
DDR3-1600 unbuffered SO-DIMM 204pin 1.35V/1.5V
Applied Models
Synology DiskStation: DS2015xs, DS2415+, DS1815+, DS1515+, DS1817
Synology RackStation: RS2416+/RS2416RP+, RS815+/RS815RP+
RAM1600DDR3L-4GBx2 - 8GB Kit (4GB x 2)
DDR3L-1600 unbuffered SO-DIMM 204pin 1.35V/1.5V
Applied Models
Synology DiskStation: DS1817+, DS1517+

RAM1600DDR3L-8GBx2 - 16GB Kit (8GB x 2)
DDR3L-1600 unbuffered SO-DIMM 204pin 1.35V/1.5V
Applied Models
Synology DiskStation: DS1817+, DS1517+
---
ECC RAM Module

Synology Products
Synology ECC RAM Module
Synology 4GB DDR3-1600 ECC unbuffered DIMM 240pin 1.5V
#RAMEC1600DDR3-2GBX2
Our Price: $64.00
Synology 16GB DDR3-1600 ECC unbuffered DIMM 240pin 1.5V
#RAMEC1600DDR3-8GBX2
Our Price: $359.00
RAMEC1600DDR3-2GBX2 - 4GB Kit (2GB x 2)
DDR3-1600 ECC unbuffered DIMM 240pin 1.5V
Applied Models
Synology DiskStation : DS3615xs
Synology RackStation : RS3617xs, RS3614xs/RS3614RPxs
RAMEC1600DDR3-4GBX2 - 8GB Kit (4GB x 2)
DDR3-1600 ECC unbuffered DIMM 240pin 1.5V
Applied Models
Synology DiskStation : DS3615xs
Synology RackStation : RS18016xs+, RC18015xs+, RS3614xs+, RS10613xs+, RS3413xs+, RS3617xs, RS3614xs/RS3614RPxs
RAMEC1600DDR3-8GBX2 - 16GB Kit (8GB x 2)
DDR3-1600 ECC unbuffered DIMM 240pin 1.5V
Applied Models
Synology DiskStation : DS3615xs
Synology RackStation : RS18016xs+, RC18015xs+, RS3614xs+, RS10613xs+, RS3413xs+, RS3617xs, RS3614xs/RS3614RPxs
---
DDR4 Memory Module
ECC SO-DIMM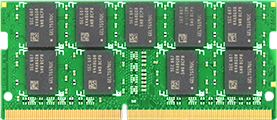 Synology Products
Synology ECC SO-DIMM RAM Module
Synology 16GB DDR4-2133 ECC unbuffered SO-DIMM 260pin 1.2V
#RAMEC2133DDR4SO-16G
Our Price: $217.00
RAMEC2133DDR4SO-16G - 16GB
DDR4-2133 ECC unbuffered SO-DIMM 260pin 1.2V
Applied Models
Synology DiskStation : DS3018xs, DS3617xs
---
ECC UDIMM
Synology Products
Synology ECC UDIMM RAM Module
Synology 8GB DDR4-2133 ECC unbuffered DIMM 288pin 1.2V
#RAMEC2133DDR4-8G
Our Price: $108.00
Synology 16GB DDR4-2133 ECC unbuffered DIMM 288pin 1.2V
#RAMEC2133DDR4-16G
Our Price: $193.00
RAMEC2133DDR4-8G - 8GB
DDR4-2133 ECC unbuffered DIMM 288pin 1.2V
Applied Models
Synology RackStation: RS4017xs+, RS3617xs+, RS3617RPxs
RAMEC2133DDR4-16G - 16GB
DDR4-2133 ECC unbuffered DIMM 288pin 1.2V
Applied Models
Synology RackStation: RS4017xs+, RS3617xs+, RS3617RPxs
---
ECC RDIMM

Synology Products
Synology ECC RDIMM RAM Module
Synology 16GB DDR4-2133 ECC Registered DIMM 288pin 1.2V
#RAMRG2133DDR4-16G
Our Price: $193.00
Synology 32GB DDR4-2133 ECC Registered DIMM 288pin 1.2V
#RAMRG2133DDR4-32G
Our Price: $375.00
RAMRG2133DDR4-16G - 16GB
DDR4-2133 ECC Registered DIMM 288pin 1.2V
Applied Models
Synology FlashStation: FS3017, FS2017
Synology RackStation: RS18017xs+
RAMRG2133DDR4-32G - 32GB
DDR4-2133 ECC Registered DIMM 288pin 1.2V
Applied Models
Synology FlashStation: FS3017, FS2017
Synology RackStation: RS18017xs+