Camera License Pack

Optional camera license pack for installing an additional camera on the Synology Surveillance Station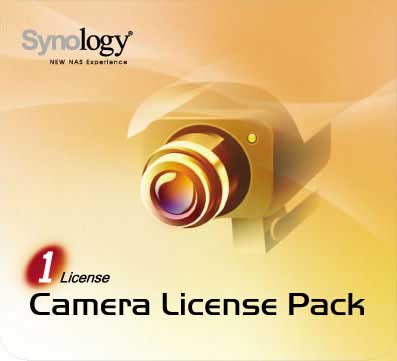 Synology Product
Synology Accessories
Synology IP Camera License Pack For 1
Please Note: This license is a physical shipment and not available electronically
Synology IP Camera License Pack For 4
Please Note: This license is a physical shipment and not available electronically
Synology IP Camera License Pack For 8
Please Note: This license is a physical shipment and not available electronically
Synology Camera License Packs are designed for expanding cameras set up on the Synology Surveillance Station. By default, one camera license is installed. By applying the license key on the Surveillance Station user interface, you will be able to set up and manage more than one camera on the network.
Purchase & Expand Camera Support
Two Packages Available
- 1 camera license
- 4 camera licenses
The supported number of IP cameras is different on each models. To find out the maximum IP cam support number, please refer to specification of each DiskStation model.

Synology Product
Synology Accessories
Synology IP Camera License Pack For 1
Please Note: This license is a physical shipment and not available electronically
Synology IP Camera License Pack For 4
Please Note: This license is a physical shipment and not available electronically
Synology IP Camera License Pack For 8
Please Note: This license is a physical shipment and not available electronically