Surveillance Solution for Home

user-friendly and cost-effective
Live View & Alert
Live View offers an intuitive interface and smart multi-stream switching technology allowing you to efficiently monitor and control multiple IP cameras. With alert panel and live view analytics, monitoring suspicious activities has become easier and more powerful in Surveillance Station.
Intuitive and efficient Live View
With Live View, you can enjoy smooth, hassle-free, multiple channel viewing in HD, use on-screen tools and interactive e-maps, or navigate with a joystick.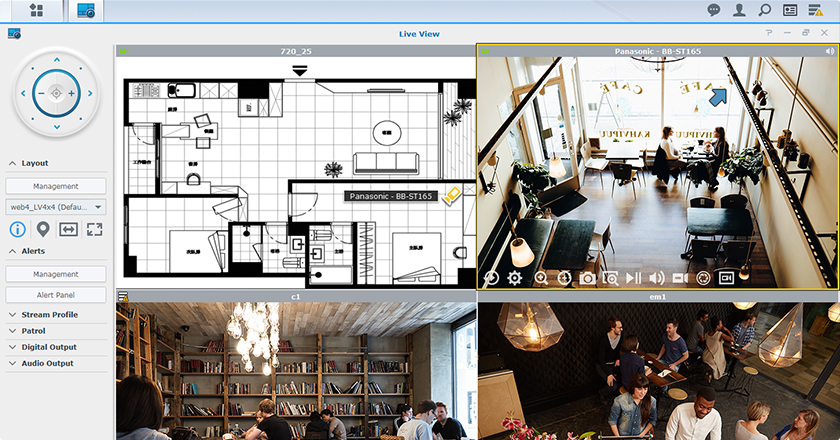 Smart multi-stream switching technology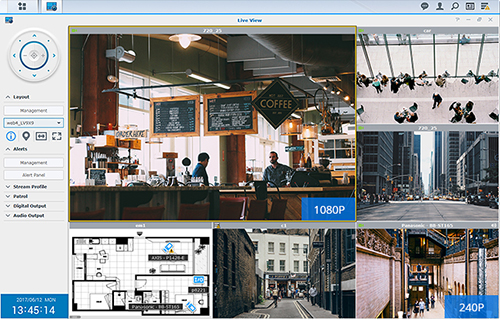 Auto switching
Switch stream resolution automatically according to the channel window size.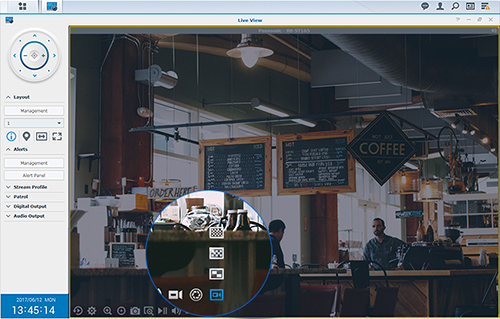 Manual switching
You can also switch to a higher or lower resolution manually using on-screen display buttons.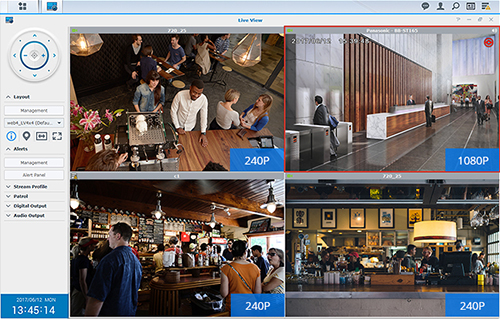 Event trigger
When an event is triggered, the resolution of live feeds will auto-adjust to the highest resolution.
Surveillance anywhere
Monitor anytime, anywhere using a web browser, desktop client, or mobile device. Surveillance Station works perfectly with Windows, Mac, iOS, and Android.
Browser
Safari, and Internet Explorer supported.
Desktop client
Surveillance Station Client is available on Windows and Mac.
Mobile device
DS cam works perfectly with iOS and Android.
Local display
Synology NVR and VisualStation provide local display function.
Quickly responds to incidents with Alert Panel
Incidents are instantly displayed on Alert Panel in Live View, allowing users to immediately replay recordings and take control of the situation.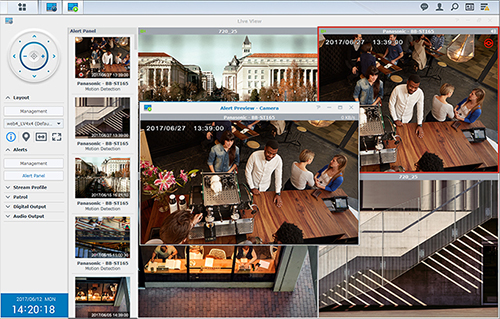 Customizing alert types
You can choose from different types of alerts including popup windows, flash frames, and beep sounds.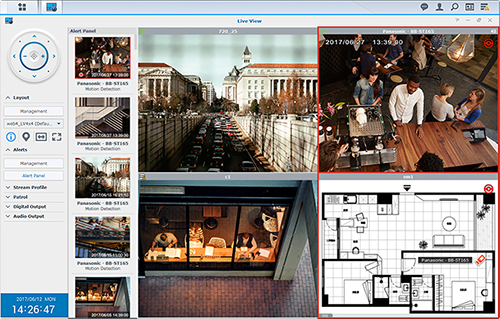 Concurrent alert
Record the video feed quickly while receiving concurrent alerts in Live View and E-map when a specified event occurs.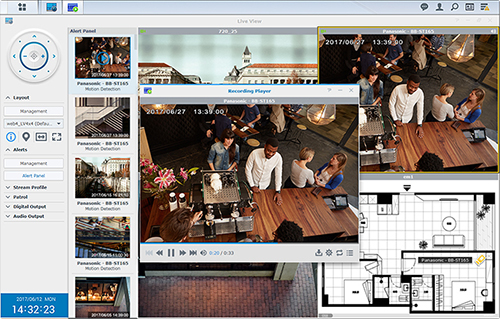 Fast replay
By simply clicking on the video feed in Alert Panel, you can review the contents of the event efficiently.
Live View Analytics
With Live View Analytics, you can monitor suspicious events with more than one option at a time. Events triggered by pre-defined criteria will automatically be displayed on Live View and E-map.
Built-in event detection
Motion detection
System detects if there's any movement in a pre-determined area.
Missing object
Any object that's removed or missing from a pre-defined area triggers the alarm.
Foreign object
Any object that enters and remains in a pre-defined area is taken as a foreign object.
Camera occlusion
When an IP camera lens is blocked by unknown objects, the system will trigger an alert.
Focus lost
When an IP camera has adjusted or lost focus, the system will trigger an alert.
No-idle zone
Any object that stays in the no-idle zone for over a set period of time will trigger an immediate alert.
In-camera event detection
Motion detection
System detects if there's any movement in a pre-determined area.
Audio detection
System detects based on a pre-defined audio level.
Tampering
When an IP camera is sabotaged or blocked, the system will trigger an alert.
Digital Input
When an IP camera is triggered by an input signal, it will send a signal to Surveillance Station to trigger an alert.
ACAP plug-ins
Supports AXIS ACAP plugins, for more advanced video analysis features such as Video Motion Detection 3, and more.