Surveillance Solution for Small Businesses

User-friendly and cost-effective
Why do you need a surveillance solution?
If you're starting a company or own a small business, securing your assets and personnel is a step never to be overlooked. An efficient surveillance solution provides you with means of minimizing incidents or shoplifting, generating customer satisfaction, and increasing your productivity in the long run.

To help you achieve this task, Synology offers Surveillance Station, which includes various features optimized for small installations, usually one site with 16 cameras and less. Running on all Synology NAS, this user-friendly surveillance management system is cost-effective, making it your ideal solution to help secure your business!
Set-up your monitoring environment easily with only three devices
Building your own monitoring environment is fast and convenient. All you need is three core components: an IP camera (wired or Wi-Fi), a computer, and a Synology NAS for running Surveillance Station and storing recording files. Alternatively, Synology NVR216 delivers an all-in-one private surveillance solution that removes the necessity for a computer. If you're constantly moving around, simply use a mobile device for monitoring, controlling, and receiving notification on-the-go!


NVR




Other NAS products
What is Synology Surveillance Station?
Surveillance Station is a powerful surveillance software running on Synology NAS. It is a web-based solution so you can conduct monitoring and management on any computer. Through the convenient and multitasking web interface, you can set up your cameras, archive and consult past recordings, manage user permissions, or even interface with analog devices such as door controllers. Since Surveillance Station is easy to set up and manage, you can reduce costs by installing everything by yourself and avoid getting any third parties involved.

Compatibility
Pick an ONVIF compatible device or one of the 5600 IP cameras tested by Synology to perfectly suit your needs.

Remote access
Synology's user can easily access Surveillance Station through web browser, desktop client, QuickConnect, local display and mobile device, allowing you to monitor anytime anywhere.

Essential features
Surveillance Station is packed with handy features for SMB users including live view panel, recording schedule, alert & notification and RAID protection, to maximize your ROI.
Compatible to new and old
In addition of the ONVIF support, you can select among 5600 compatible cameras with a wide range of variety, including fisheye, PTZ, multi-lenses, and so on, from 90 renowned brands according to your preference and needs. Since all those devices have all been integrated and supported on the Surveillance Station, compatibility is guaranteed. Surveillance Station also supports video server, and if you already own many existing analog cameras, there will be no need to purchase new ones, helping you to down-size your deployment costs.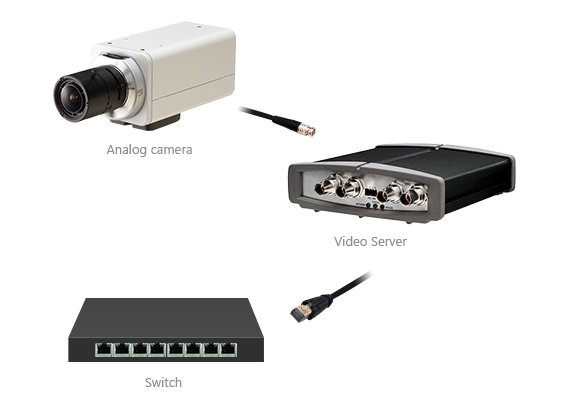 Remote access anytime anywhere
Worried about your store when you are out of your office running errands or afterhours? With DS cam, a free mobile extension of Surveillance Station available on iOS and Android, you can watch multiple channels simultaneously, adjust your cameras' angle and zoom with PTZ actions, or browse through all your recordings. It even supports push notifications to warn you right away when events happen. With the prevalence of Internet access, you can connect from anywhere through web browser using QuickConnect and to take a quick peek at your store.
Establish surveillance, your way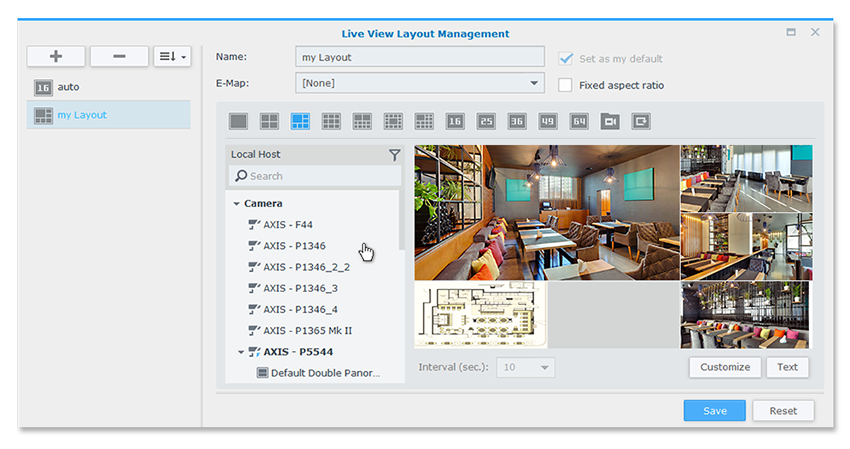 Customize your real-time monitoring window
Live View panel allows you to easily customize the monitoring layout according to your preference and show video streams from multiple IP cameras in real time. You can also add E-Map to help quickly understand the environment. With its sequential camera display feature, you can pick and choose which camera will be periodically displayed to efficiently monitor low priority area without spending too much time.

Schedule and playback your recordings anytime
Recording too many redundant things that devour your storage space? Surveillance Station provides a tool to schedule your recordings to start and end at a specific time or according to other criteria, allowing you to precisely document only the crucial events using motion detection instead of simply continuously recording everything. You can avoid meaningless recordings taking up storage space and cut-down on the expense of buying more hard drives.
Notifications keep you alert
Surveillance Station acts as a watchdog, intelligently guarding your surroundings and keeping everything safe and sound. If someone enters your premises, you can be alerted in a variety of ways. Or if a camera and drives carrying all your recordings has been diagnosed for potential failure, notifications will be sent directly to your email or smartphone as a precaution. You can also receive snapshots of recordings through email if enabled.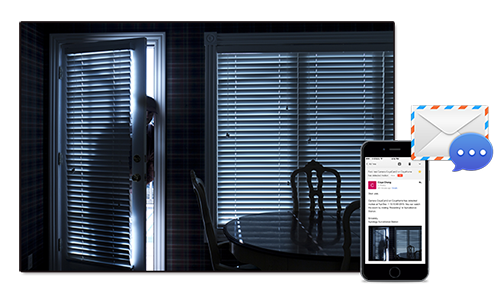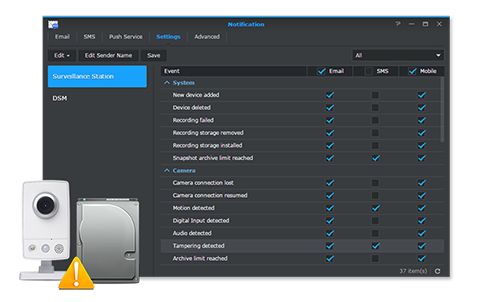 Protect your recordings without cost
There is always a risk that a drive containing essential recordings might fail. To prevent unrecoverable permanent loss of recordings, Synology provides models with two or more hard drive bays, along with NVR216, where Synology Hybrid RAID (SHR) storage technology automatically mirrors your recordings on more than one drives to keep data accessible even if your hard drive fails. RAID technologies are usually available only for advanced and costly NVR, but Synology, leveraging its long storage expertise, provides it free of cost on all available models.