Egnyte EgnytePlus for Synology DiskStation

Small Business Cloud File Sharing with Synology DiskStation
Synology DiskStation offers high performance, scalable and full-featured network attached storage solutions for small businesses that require an efficient way to centralize data protection, simplify data management, deploy virtualization solutions, and rapidly expand storage capacity with minimal time spent on setup and management.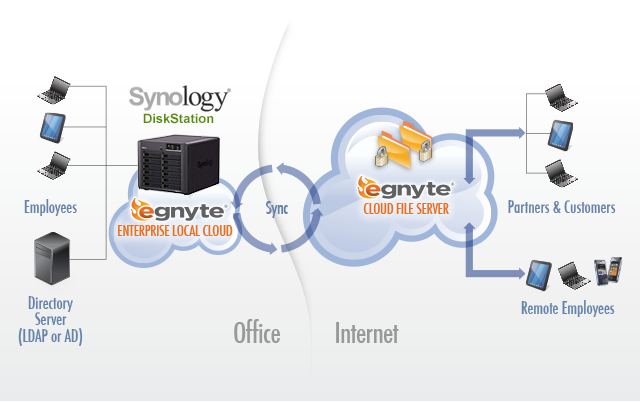 But once the data is stored, how do employees share files to collaborate, inside and outside the firewall? How do employees share files with mobile devices?
Egnyte enables cloud file sharing from any Synology DiskStation. You can store, share and access files from anywhere, with any computer or mobile device.
Egnyte with Synology DiskStation allows you to:
Access files from anywhere, with any device
Share files easily between offices and business partners
Collaborate across multiple offices
Back up your files safely in the cloud
Access files from anywhere, with any device

Files on your Synology DiskStation can easily be accessed using Egnyte. While in the office, employees continue to enjoy the Synology experience with uninterrupted file access and sharing through the LAN. Remote employees can access files online using any web browser, mapped drive, FTP client, smartphone or tablet. No matter where the user is, Egnyte syncs your Synology DiskStation files to the cloud, providing flexible file sharing from anywhere, with any device.

Files originating from your Synology DiskStation can also be accessed through any device or platform such as Salesforce.com, Microsoft Outlook, Google Docs and other workplace tools.
Share files easily between offices and business partners

Synology DiskStation with Egnyte lets you set up a central access point for sharing files within teams, across multiple offices and with business partners. You can exercise complete control over file access using granular access permissions and audit reports. Users see only the folders intended for their projects or departments.
Collaborate across multiple offices

Deploying Egnyte on multiple Synology DiskStations across multiple offices allows you to connect them together under one central access point. This helps employees of distributed offices to work seamlessly together as if they are in one location. Never again will you have to replicate your network across multiple offices, which can be costly and time-consuming to maintain.
Safely backup files in the cloud

Any files synced from your Synology DiskStation to the cloud are automatically backed up. Egnyte´s data centers are hosted on industry-leading Tier II, SSAE 16 compliant facilities. All data is encrypted using 256-bit AES encryption over SSL during transfer and at rest. Egnyte´s architecture has built-in redundancy, maintaining multiple copies of your data to protect against hardware failures. In the case of disaster recovery, all your files, including past versions, can be instantly retrieved from the cloud.
Optimize network bandwidth

With a cloud-only storage solution, users are at the mercy of the network. As more of your applications are shifted to the cloud, your network connection becomes saturated, and the ability to access your files in the cloud becomes compromised. By cloud enabling your local Synology storage, EgnytePlus optimizes the network bandwidth used by storage. Administrators can configure which files are synchronized, and the synchronization frequency. When the network becomes saturated, or fails, users still have access to their files on your local Synology storage.
Ready to Get Started? Learn more about Egnyte at